Ted Flato - LAKE/FLATO HOUSES
Start:
Thursday, November 13, 2014 - 7:00pm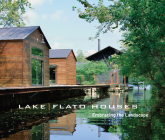 $45.00
ISBN: 9780292758452
Availability: Not On Our Shelves. Usually arrives in 1-5 Days
Published: University of Texas Press - June 1st, 2014
Lake-Flato Architects of San Antonio, Texas, is nationally and internationally acclaimed for buildings that respond organically to the natural environment. The firm uses local materials and workmanship, as well as a deep knowledge of vernacular traditions, to design buildings that are tactile and modern, environmentally responsible and authentic, artful and crafted. Lake-Flato won the Global Award for Sustainable Architecture in 2013, and it has also received the American Institute of Architects' highest honor, the National Firm Award. In all, Lake-Flato has won more than 150 national and state design awards. Residential architecture has always been a priority for the firm, and Lake-Flato Houses showcases an extensive selection of landmark homes built since 1999. Color photographs and architectural commentary create a memorable portrait of houses from Texas to Montana. Reflecting the firm's emphasis on designing in harmony with the land, the houses are grouped by the habitats in which they're rooted--brushland, desert, hillside, mountains, city, and water. These groupings reveal how Lake-Flato works with the natural environment to create houses that merge into the landscape, blurring boundaries between inside and outside and accommodating the climate through both traditional and cutting-edge technologies. The sections are opened by noted architect and educator Frederick Steiner, who discusses Lake-Flato's unique responses to the forms and materials of the various landscapes. An introduction by journalist Guy Martin summarizes the history of Lake-Flato and its philosophy, and explores the impact of its work on sustainable architecture.
---