The Lovely Reckless (Compact Disc)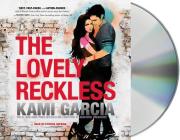 $39.99
Not On Our Shelves. Usually arrives in 1-5 Days
Description
---
From #1 New York Times bestselling author Kami Garcia, The Lovely Reckless is a contemporary romance full of loss, love and redemption...
Seventeen year-old Frankie Devereux would do anything to forget the past. Haunted by the memory of her boyfriend's death, she lives her life by one dangerous rule: nothing matters. At least, that's what Frankie tells herself after a reckless mistake forces her to leave her privileged life in the Heights to move in with her dad--an undercover cop. She transfers to public school in the Downs, where fistfights in the halls don't faze anyone and illegal street racing is more popular than football.
Marco Leone is the fastest street racer in the Downs. Tough, sexy, and hypnotic, he makes it impossible for Frankie to ignore him...and how he makes her feel. But the risks Marco takes for his family could have devastating consequences for them both. When Frankie discovers his secret, she has to make a choice. Will she let the pain of the past determine her future? Or will she risk what little she has left to follow her heart?
"Narrator Cynthia Hopkins does this complex story credit with her insightful narration... Hopkins gets right to the heart of this romance, ensuring that listeners will be riveted as each layer of secrets is peeled away." -AudioFile
About the Author
---
Kami Garcia is a #1 New York Times bestselling and Bram Stoker-nominated author and the coauthor of the Beautiful Creatures and Dangerous Creatures novels. Her solo series, the Legion, includes the instant New York Times bestseller Unbreakable and its sequel, Unmarked.Kami was a teacher for seventeen years and coauthored her first novel on a dare from seven of her students. If she isn't busy watching Supernatural, Kami can teach you how to escape from a pair of handcuffs or bake a Coca-Cola cake. She has never raced a car, but there is still time. Kami lives in Maryland with her family and their dogs, Spike and Oz.