May Featured Titles in the Treehouse
Article by liz

It's May, and that means it's almost summer! We know it's hard sometimes to keep the whole family entertained when school's out, but never fear: we've got books for every age and interest. Here are our May featured titles for the family!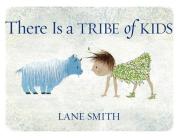 $18.99
ISBN: 9781626720565
Availability: Not On Our Shelves. Usually arrives in 1-5 Days
Published: Roaring Brook Press - May 3rd, 2016
Beloved illustrator and author Lane Smith (artist of such classic favorites as THE STINKY CHEESE MAN AND OTHER FAIRLY STUPID TALES and GRANDPA GREEN) brings out his wild side with this completely wonderful picture book! THERE IS A TRIBE OF KIDS is a sweet and enchanting story of a young boy trying to find a place to call home. The charming, repetitive language and Smith's trademark illustration style combine to make a perfect story time experience that has more and more to show you on each reading. Not only is it a visual feast and fantastic to read, but it'll tug right on your heartstrings, too. A perfect new classic.
---

$19.99
ISBN: 9781484732748
Availability: Not On Our Shelves. Usually arrives in 1-5 Days
Published: Disney-Hyperion - May 3rd, 2016
Another new series for fans of Rick Riordan's mythology books! In THE HIDDEN ORACLE, a new addition to the world of Percy Jackson, the Greek god Apollo crosses Zeus one too many times and finds himself sent to Earth as a mortal, stripped of all his powers. But Apollo's made some enemies over the many years he's been causing mischief, and without any of his powers, there's only one place he can be safe: Camp Half-Blood. As a big fan of Riordan's universe, I can't wait to read this one. It's under top-secret lock and key for now, but we'll all dive in together when it's out on May 3!
---

$17.99
ISBN: 9780062387950
Availability: Not On Our Shelves. Usually arrives in 1-5 Days
Published: Greenwillow Books - May 3rd, 2016
ASK ME HOW I GOT HERE is revolutionary. It's a novel in verse told by Addie, a track star at an all-girls Catholic school who finds herself pregnant after one careless night with her boyfriend. She decides to end the pregnancy, and while she knows it's the right decision for her, it nevertheless changes everything in her life. ASK ME HOW I GOT HERE follows Addie's journey to rediscover who she is and what she wants in the aftermath of this massive experience. It's a phenomenal and refreshing book, not sugar-coating any of the tough decisions Addie has to make, or treating any young readers as if they can't understand or make any of these decisions themselves--because real teenagers do make the decisions Addie has to make every day. Through it all, Heppermann keeps Addie's dry wit sharp and her observations astute. Definitely pick this one up.
---