Outrageous Characters: Joy Interviews Cate Berry
I was so very excited when Austin's Cate Berry reached out to me about doing a story time at Brazos for her debut picture book! Penguin and Tiny Shrimp Don't Do Bedtime is out now from Balzer and Bray/Harper Collins, an imprint that publishes impeccably wonderful, creative picture books! Penguin and Tiny Shrimp is funny and charming and as per the title will absolutely not put you to sleep. And Cate, who also teaches aspiring authors the art of writing humorous picture books, is equally a delight!
We sat down to chat the other day, about her book and what makes a story funny, and picture books in general. Here's what Cate had to say.
---
JOY: Cate! Penguin and Tiny Shrimp Don't Do Bedtime is your debut picture book! So first of all, congratulations. Second of all, it's very funny. Can you talk a little about both writing humor and about writing humorous picture books?
CATE BERRY: Hi Joy! Thanks for hosting me today!
So, let's talk humor. Most people think you are either born funny or you aren't. And, I agree to some extent. But there are certain things that are always present in humor like the element of surprise. Almost every joke or funny scene uses surprise in some way to make it funny. Once you train yourself to recognize surprising moments you can analyze how the author set it up. And— you can beg, steal and borrow these same techniques! I could talk about this for days it's so fascinating to me. I had so much fun building more and more surprising moments in this book and I hope kids find it funny and fun. I always strive for both of these qualities in my writing.
Surprise and humor really work well in picture books because children crave outrageous characters, scenes and stories. In other words, they want you to startle and surprise them! They are eager to suspend their disbelief and that makes the payoff very satisfying.
JP: I think that surprise is so important in picture books! I always look for that little twist. In a related question, what advice do you have for authors who want to write 'funny'?
CB: You want to toggle back and forth between the light and the dark. All comedy has some tragic element that's been flipped on its head in a silly or ridiculous way. That's what makes us laugh, teasing out the humor in a dark situation. There are great books written about comedic theory and analyzing humor. But my best advice to writers is to try study how humor works and then leave it in the other room. Let your fingers fly. Audrey Vernick, a wonderful humorous picture book writer, states, ""I try not to think too hard. In my most natural, least self-conscious state, humor is often readily accessible. When things are going really well, it feels like my fingers thought of the funny thing and typed it before my brain had a chance to think about it."
It sounds abstract but if you can get out of your own way you'll have more success with the funny stuff.
JP: Well, speaking of getting out of the way, I know that picture book authors typically have no control over who is hired to illustrate, but wow! Charles Santoso has captured your text so wonderfully. I know you agree, so tell us some of what you love about the artwork and how it enhances your text.
CB: Charles is a very versatile illustrator. His cannon of work is so varied, yet he threads it all together with his signature warmth and palpable emotion leaping off the page. I know from interviews with him that he spends time listening to the characters until they guide him. I find it refreshing in today's world where everyone is obsessed with defining their own "brand" that Charles trusts himself and the author's text first and foremost. That's the mark of a great artist.
He enhanced my words significantly. For example, I hadn't given him much textually with the character of Uni-Hippo. But he took the time to discover the tone of my story—the whimsy and bold adventure—and he channeled it into a wonderful Uni-Hippo reveal at the climax of the book. In fact, we all agreed it was so wonderful, we changed the ending letting Uni-Hippo say the last line! Now that is a magical collaboration.
JP: Magic indeed! So here's another questions: why children's books?
CB: Oh, I've been thinking about this a lot lately. I like writing memoir and essays as well as children's books. But it's very easy for me to slip into my four-year old mind and experience the world that way. I'm stunted, I guess. I see things sideways, like a kid. I don't see a tree, I see a living thing with opinions and feelings. It delights me to enter this child's mind and write from that perspective. I hope it connects because children deserve our very best. At least I think so.
JP: Anything else you'd like us to know about the fabulous Cate Berry?
CB: Oh boy. I don't know about fabulous, but, thank you! I grew up in Houston and it's such an honor to come back as an author, especially to the fabulous Brazos Bookstore (see what I did there?). I've traveled all over the country, forty-nine out of fifty states, but Texans always come home, don't they? Although I live in Austin now, Houston will always be very special to me.
JP: Thank you for such wonderful questions, Joy!
CB: Thank you for such wonderful answers, Cate!
---
Buy your copy of PENGUIN AND TINY SHRIMP now and join us for Cate Berry's story time on 6/30 at 10:30 AM.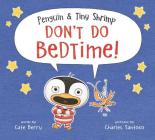 $17.99
ISBN: 9780062491534
Availability: On Our Shelves Now
Published: Balzer + Bray - May 8th, 2018
---