February Features in the Treehouse!
Article by liz
February is fantastic! We've got so many excellent books new on our shelves this month, it's ridiculous. Take a look at these three featured titles for the month of February--guaranteed to please all the readers in your family!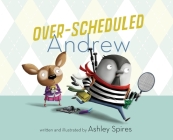 $16.99
ISBN: 9781770494848
Availability: Not On Our Shelves. Usually arrives in 1-5 Days
Published: Tundra Books (NY) - January 12th, 2016
This month's picture book should strike a chord with every single family who's bursting with activities! OVER-SCHEDULED ANDREW is hilarious and delightful--the story of a very busy little penguin who soon learns that maybe it's best not to do everything, but to find your true passions instead!
---

$16.99
ISBN: 9780062377012
Availability: On Our Shelves Now
Published: Balzer & Bray/Harperteen - February 2nd, 2016
Our featured middle-grade title, PAX, hits the same soft bits in my heart as classics like SHILOH and WHERE THE RED FERN GROWS. This story of a boy and his fox is Homeward Bound across the divide of nature, war: a gorgeously compelling story of friendship.
---

$18.99
ISBN: 9780399160301
Availability: Not On Our Shelves. Usually arrives in 1-5 Days
Published: Philomel Books - February 2nd, 2016
I've been waiting for our featured young adult novel, SALT TO THE SEA, for months, Treehouse fans. This new novel from Ruta Sepetys seamlessly merges the viewpoints of four teenagers--refugees, soldiers, and everyone in between--as they flee East Prussia in the last days of World War II. It's painful yet hopeful, and a perfect book for parents and teens to read together (it's been compared to ALL THE LIGHT WE CANNOT SEE, another masterpiece of WWII historical fiction!).
---